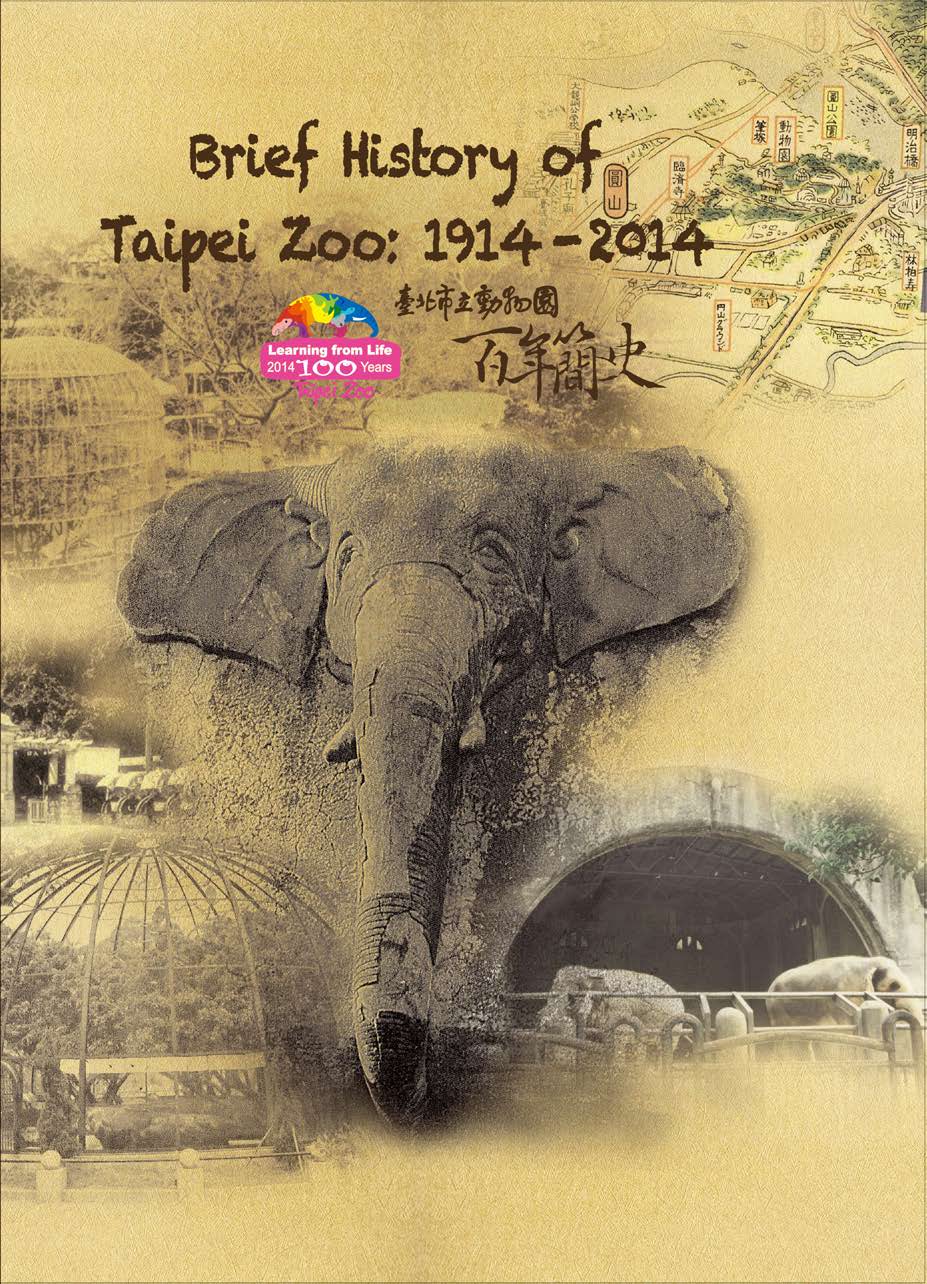 Author: Hsu, Sheng-kai
Publisher: Taipei Zoo
Publication Date: October 2014
Language: English
Price: NT$200 / CD
ISBN: 978-986-04-2531-4 ∕ GPN:4310301907
Specification: E-Book (Disc) / 216 pages / 1st Edition
Sold at:
1. Government Publications Bookstore Songjiang Store (Chinese website)
2. www.books.com.tw (Chinese website)
3. TAAZE (Chinese website)
4. Publication and Souvenirs Shop of Taipei City Government
5. Taipei Zoo souvenir shops
Introduction:
This book briefly records the developmental journey of Taipei Zoo from Yuanshan to Muzha. It has experienced Japanese rule, the hardship during early post-war period, and the turning point during the 1970s, until the present big modernized zoo. In 2014, Taipei Zoo celebrates its centennial anniversary, and relevant historical data, newspapers, and photographs have been collected from this past century, compiled into A Century of Taipei Zoo: 1914~2014. At the same time, to provide a more colloquial and inviting history book of the Zoo for the general public and professionals, A Century of Taipei Zoo: 1914~2014 is quite plain, and along with appropriate pictures. This is a historic reading material suitable for anyone to learn more about the Zoo.
Table of Contents:
Foreword
Preface
Chapter 1 Yuanshan Zoo during the Japanese Period 1914-1945
Chapter 2 Yuanshan Zoo during Post-World War II 1945-1986
Chapter 3 Modernized Muzha Zoo 1986-2014
Summary: The Changes of Taipei Zoo in a Century
Appendix I Former Directors of Zoo and Major Staff System
Appendix II Number of Animals Reared Over the Years
Appendix III Number of Visitors and Ticket Price Over the Years
Appendix IV Taipei Zoo Chronology of Events
Introduction of Author:
Sheng-kai Hsu is a doctoral candidate at the Department of History, National Taiwan Normal University.
Major works:
Taihoku Higher School and the Cultivation of the Elites during Japanese Rule (National Taiwan Normal University Press), Biography of Mr. Po-chao Huang: Pilot of Taiwan's Nutritional Research and Pioneer of Taiwan Medical Education Reform (Avanguard Publishing House)